Restaurant Sign In
|
User Sign In
ALIOTO'S RESTAURANT

Alioto's - Sample Menu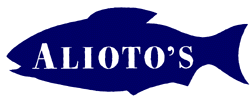 Appetizers

Local Bay Shrimp Cocktail 8.50

Prawn Cocktail 8.75

Cold Seafood Salad 9.50
Calamari, octopus and shrimp, marinated in olive oil, house made white wine vinegar and toscanelli beans

Salumi Mista 8.75
Prosciutto, mortadella, sopressata and Genoa salami

Crispy Fried Oysters 9.75
Served with cayenne chili, garlic dipping sauce

Shrimp in Ceramic Pots 9.25
Baked in garlic, shallots, lemon butter and parsley

Alioto's Fried Calamari 10.25
Served for over 85 years

Lumache (Escargot) (6) 9.25
Prepared with garlic, shallots, parsley, lemon, butter, and baked

Griddle Fried Sicilian Style 11.75
Calamari and Shrimp Our Specialty

Local Dungeness Crabmeat Cocktail 14.25

Baked Stuffed Artichoke 7.75

Batter Fried Shrimp 9.50
Cayenne chili aoli dipping sauce

Alioto's Original Seafood Sausage 13.50
Filled with prawns, shrimp and scallops, served with a tomato basil, lemon butter caper sauce

Oysters Rockefeller 12.75
Oysters baked with spinach and glazed with Hollandaise sauce, served on the half shell

Combination of Manila Clams & Mussels 11.75
Steamed in a garlic flavored broth

12 oz of just clams 1 3.75

12 oz of just mussels 11.25

Sicilian Calamari 11.75
Fried, sautéed with tomato sauce red pepper

Smoked Salmon 12.75
Served with capers and onions

Dungeness Crab and Avocado Salad 15.75
Louie dressing

Oysters on the Half Shell (6) 13.75

Local Dungeness Crab Hash 8.75
An Alioto's specialty, mushroom, spinach, egg and onion

Alioto's Famous Dungeness Crab Cake 15.75
Mildly seasoned and spiced, served with mix greens, lemon butter sauce, chives and fresh tomatoes


Soups & Salads

New England Style Clam Chowder
Made in house Cup 6.75 Bowl 8.95

Local Dungeness Crab Bisque 9.95
Served with puff pastry, made in house

Clam Chowder in Bread Bowl 10.25
New England Style (Served from 11 am to 4 pm)

Baby Organic Mixed Green Salad 7.75
with local bay shrimp 10.25
with local Dungeness Crabmeat 13.75

Choice of dressing: oil and vinegar
Thousand Island, Blue Cheese, Creamy Garlic Italian

Alioto Salad 9.25
Organic mixed greens tossed with pine nuts, raisins fennel, served with our house vinaigrette

Wedge of Salad 9.95
Iceberg lettuce, olive oil and house sherry wine vinegar crumbled blue cheese, crispy bacon and shredded egg

Classic Caesar Salad 9.75
Romaine lettuce, spicy anchovy dressing, grated parmesan cheese and croutons
With grilled organic chicken breast 13.95

Baby Arugula with Artichokes 12.75
Truffle oil, tapenade (olive puree) shaved parmesan cheese with vinaigrette

Local Bay Shrimp Louie
½ order 11.25 full order 18.75

Combo Louie
Dungeness crab, bay shrimp and prawns ½ order 17.25 full order 24.75

Local Dungeness Crab Louie
½ order 23.75 full order 39.00


Sandwiches 11am – 4pm

Sicilian Vegetarian 9.75
Grilled zucchini, eggplant, roasted peppers oven dried tomatoes and arugula served cold

Local Bay Shrimp Roll 9.75
Shrimp served with mayonnaise, tomatoes lettuce and chives on a toasted Brioche roll

Hamburger Deluxe 10.25
(cooked medium unless otherwise specified) Lettuce, tomatoes, dill pickle
with cheese add 2.00
with caramelized onions add 2.00

½ Local Shrimp Meat Sandwich 10.25
With a cup of New England chowder

Tuna Melt 11.75
Tuna fish on a sliced toasted Brioche with cheese, lettuce, tomatoes, mayonnaise and red onion

Grilled Organic Chicken Breast 11.75
Oven dried tomatoes, peppers and arugula

Filet of Sole 13.75
Served with lettuce, tomatoes and basil mayonnaise

Local Dungeness Crabmeat Roll 16.75
Served with mayonnaise, tomatoes, lettuce and chives on a toasted brioche roll


FRESH LOCAL DUNGENESS CRAB DISHES

Cracked Crab Served hot or cold - Half or Whole - Please ask waiter - Market

Marinated Crab - Half or Whole - Please ask waiter - Market

Roasted Dungeness Crab with Garlic, in shell Half or Whole Market

Crab Leg Sauté Mushrooms, white wine, garlic, butter sauce 36.95

For the Adventurous Market
Whole crab brought to your table for you to crack and enjoy. Sold by the pound

Nonna Rose's Famous Crab Cioppino – Our Specialty 33.75
With clams, mussels and shrimp in a spicy tomato sauce


Fresh Fish & Shellfish

Calamari Sautéed 18.25
With mushrooms, onions, garlic, tomatoes and peas

Fresh Trout stuffed with Bay Shrimp and Mushrooms 18.75
Wrapped with bacon and roasted, lemon butter sauce

Wild Barramundi 19.75
Delicate white fleshed fish similar to halibut, pan roasted with crimini mushrooms and pearl onions drizzled with truffle oil and served on a bed of mashed potatoes

Fish and Chips 19.75
Crispy battered local fish served with smashed English peas

Filet of Rex Sole or Sand Dabs your choice 17.25
-Doré with lemon butter shrimp sauce
-Pan fried with lemon butter caper sauce
-Pan fried breaded Sicilian style with tartar sauce

Filet of Rex Sole 19.75
Stuffed with mushroom duxell, baked in a Vin Blanc sauce, served on a bed of spinach

Petrale Sole Doré 23.75
Dipped in egg batter, griddle fried and served with lemon butter sauce

Prawns Doré 23.75
Caper sauce, served with fried rice

Fried Prawns Classically Prepared 23.75
Crispy and golden brown, served with our famous tartar sauce

Alioto's Famous Sautéed Prawns 24.75
Sautéed with garlic, white wine, tomatoes and lemon butter sauce

Pan Roasted Wild Rock Fish 21.50
Served with wild mushrooms and a hint of truffle oil

Filet of Naturally Raised Salmon, Kalbi Style 24.75
Grilled with a teriyaki style sauce, served with fried rice

Filet of Naturally Raised Salmon, Sicilian Style 24.75
Baked with tomato and onion

Seared Wild Tuna Roll 26.75
Served with a harmonious blend of balsamic vinegar, sesame seed oil, soy sauce and butter served with fried rice

Tuna Steak 32.00
Served with fresh vegetables

Wild Swordfish Involtini 27.75
Crabmeat wrapped in swordfish served with diced tomatoes and lemon butter caper sauce

Swordfish Steak 32.50
Served with fresh vegetables

Scallops 26.75
Broiled and baked on a bed of mashed potatoes and topped with Sicilian breading

Whole Baked Maine Lobster 48.00
Stuffed with crabmeat, bay shrimp and mushrooms, served in its shell

Whole Maine Lobster Thermidor 48.00
Oven baked in its shell with mushrooms, sherry wine, cream and glazed with Hollandaise sauce

Broiled Australian Lobster Tail Served with drawn butter 64.75


COMBINATIONS

Sicilian Style Bouillabaisse 22.75
Combination of calamari, fish and shellfish in a tomato, saffron fish stew

Sicilian Mixed Grill 24.50
Stuffed calamari, marinated skewered shrimp and involtini of swordfish served with rice

Fish Combo 22.75
Rock cod, rex sole and salmon served on pillows of pureed potatoes, lemon butter Italian parsley sauce

Combination Fried 24.75
Prawns, oysters, scallops and calamari served with French Fries and fresh vegetable of the day

Combination Sauté 29.75
Prawns, crab legs and scallops sautéed with garlic, white wine, mushrooms tomatoes, lemon and butter, served with rice

COMPLETE DINNERS SERVED WITH ANY ENTRÉE FOR ONLY $9.75 MORE
Served from 4:00 pm on

CHOICE OF ONE APPETIZER

Cup of New England Style Clam Chowder
Local Bay Shrimp Cocktail
Alioto's Famous Fried Calamari with Tartar Sauce
Fried Shrimp, Cayenne Chili Mayonnaise Dipping Sauce
Organic Seasonal Mixed Greens, Candied Nuts and Citrus
Baked Stuffed Artichoke
Sicilian Style Clams Baked with Oregano Seasoned Sicilian Breading
Dungeness Crab Mornay, Local Dungeness Crab with Cream, Sherry Wine and Cheese


CHOICE OF ONE DESSERT

Sicilian Cannoli - Tiramisu - Orange Flavored Crème Caramel - Fruit Sorbetto or Ice Cream


PASTAS AND RICE

Ziti Pasta Al Forno 17.25
Baked with prosciutto and three cheeses

Baked Stuffed Jumbo Pasta Shells 17.25
Filled with spinach, ricotta and mozzarella cheese served with tomato sauce

Tortellini Bolognese 17.25
Meat filled pasta with house made meat sauce

Tortellini Alfredo 18.75
Meat filled pasta in a cream sauce with peas and prosciutto

Spaghetti with Chicken Breast and Artichokes 17.75
Served with white wine jus

Spaghetti with Local Seafood and Shellfish in tomato sauce 22.50

Linguini with Wild Manila Clams 18.75
Choice of white wine sauce or tomato sauce

Linguini with Fried Eggplant and Local Dungeness Crabmeat 22.75
Tomato sauce

Cappellini 18.25
Finely cut pasta with local bay shrimp, basil and tomato sauce

Shellfish Ravioli 22.75
Lobster, shrimp and mushroom filled pasta pillows served with cream sauce and a hint of tomato

Baked Crab Cannelloni 25.75
With Tomato sauce and melted cheese

Risotto Alioto 24.75
Italian creamy rice prepared with shrimp, scallops, tomatoes and mushrooms


MEAT AND FOWL

Ground Sirloin Steak (cooked with onions and medium unless otherwise specified) 18.25
Better known as Hamburger Steak served with sautéed mushrooms and French Fries

Chicken Alioto 19.75
Chicken breast sautéed with artichokes and mushrooms served with mashed potatoes

Chicken Sutto Mattone 19.75
Chicken breast cooked under a brick, Italian style with bell peppers and potatoes

Chicken Saltimbocca 19.75
Prepared with sage and prosciutto. Served with fresh vegetables

Veal Parmagiana Our Way 28.95
Sautéed veal with eggplant, tomato and melted cheese, served with fresh vegetables

Breaded Veal Cutlet 28.95
Prepared Sicilian style in muddica breading, served with fresh vegetables

Veal Piccata 19.25
Sautéed with white wine, lemon juice and capers, served with fresh vegetables

12 oz Grilled Center Cut New York Steak (cooked medium unless otherwise specified) 39.25
Served with French Fries and creamed spinach with bacon


***All menu items & prices are subject to change with out notice.
To view menu on Alioto's website "CLICK HERE"

Alioto's Restaurant
#8 Fisherman's Wharf
San Francisco, CA 94133
415-673-0183
(Click here to view map)
Website
Neighborhood
Fisherman's Wharf
Cross Street
The Embarcadero
Cuisine
Italian
Seafood

Serving
Dinner
Lunch
Take Out
Yes
Catering
No
Online Ordering
No
Ambience
Casual Elegant
Fine Dining
Dress
Smart Casual
Reservations
Recommended
Parking
Free Validated Parking
Payment Methods
American Express
Diner's Club
Discover
JCB
Mastercard
Visa
Features
Banquet / Private Rooms
Beer
Full Bar
Kid Friendly
Kids Menu
Private Parties
Wine

Hours

Monday - Saturday
11am - 11pm

Sunday
11am - 10pm
Are you the owner of this restaurant?
Click here
to claim your page!