Restaurant Sign In
|
User Sign In
RAPSCALLION SEAFOOD HOUSE & BAR

Rapscallion Restaurant - Sample Dinner Menu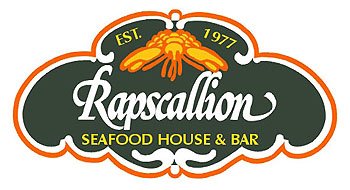 Cold Appetizers

½ Dozen Fresh Shucked Oysters 13
Cocktail sauce, horseradish & red wine mignonette

Jumbo Prawn Cocktail 12
Cocktail sauce, horseradish and fresh lemon

*Ahi Tuna Poke 11
Red onion, avocado, wasabi, scallion, orange teriyaki sauce
crispy wontons

Hawaiian Salmon Tartar 10
Avocado, scallion, wasabi, ponzu, ginger sauce & crispy wontons


Hot Appetizers

Sweet Onion Tart with Caviar 21
Ritz cracker crust, sweet Nevada onions, Estate Malossol Caviar

*Oysters Rockefeller 15
½ dozen with spinach, garlic, shallot, Pernod cream, hollandaise

Steamed Clams or Mussels or Both 14
Butter, garlic, and white wine broth

Butter and Garlic Escargot 3
Classic style of preparation, add blue cheese 14

Maryland Crab Cakes 12
Lemon and herb aioli, balsamic reduction

*Diablos on Horseback 12
Bacon wrapped scallops, flat bread, spinach, hollandaise

Calamari Rapscallion 12
Parmesan, mushroom and Dijon mustard cream sauce

Crispy Caribbean Coconut Prawns 12
Spicy orange marmalade sauce

Baked Goat Cheese 10
Rosemary garlic tomato sauce, fried flat bread, fresh herbs

Fried Artichoke Hearts 9
Lemon butter sauce and ranch dressing


Salads & Soups

Bibb Lettuce Harvest Salad 9
Caramelized walnuts, roasted apple, dried cranberries, goat cheese crumble, spiced cider vinaigrette

Iceberg Wedge 8
Tomato, tobacco onions, cucumber, bacon bits, blue cheese crumble and dressing

Traditional Caesar 8
With Chicken or Calamari-12 / Grilled Salmon 14 / Prawns 15

House Salad 7
Mixed greens, shaved fennel, radish, cucumber, tomato, croutons, creamy Italian dressing

*Traditional French Onion Soup 7
Crostini, parmesan and gruyere cheese

New England Clam Chowder 4/6
House made since 1977

Soup of the Day 4/6


Fresh from the Sea

*10oz Maine Lobster Tail 36
Wild rice pilaf, asparagus, hollandaise sauce, drawn butter
Twin Tails 60

1# Alaskan King Crab Legs 40
Wild rice pilaf, asparagus, hollandaise sauce, drawn butter

Chilean Seabass 30
Caramelized fennel, roasted peppers, tomatoes, mashed potatoes & tarragon butter sauce

*Crab Baked Sole 30
Maryland blue crab cake, parmesan cheese, roasted red peppers, scallion, lobster bisque sauce & sautéed Portobello mushrooms

Horseradish Encrusted Cod 29
Fresh horseradish, sautéed spinach, crispy leeks, lemon garlic butter sauce

Jumbo Day Boat Scallops 29
Creamy lobster bisque sauce, portobello mushrooms, asparagus, roasted red peppers & scallions

*Rapscallion Trio 28
Breaded cod, grilled salmon, shrimp,
creamy lobster bisque sauce, scallion potato cake

Cedar Roasted Salmon 26
Wild rice pilaf, sautéed vegetables, lemon caper butter sauce

Basa Amandine 26
Red grapes, toasted almonds, wild rice pilaf, sautéed vegetables, cracker crust, herb butter sauce

Italian Seared Tuna 26
Creamy polenta, broccolini, smoked tomato sauce

Char Sui Glazed Mahi Mahi 25
Coconut rice, shitake mushrooms, baby bok choy

West Coast Cioppino 24
Shrimp, clams, scallops, crab, peppers, onions, white wine, horseradish tomato sauce, fresh herbs

*Cracker Crusted Sand Dabs 23
Mashed potatoes, asparagus, mushrooms, tomato, sesame soy butter sauce


Pasta Creations

Classic Shrimp Scampi 22
Garlic, white wine, butter, lemon, parsley, spinach, tomato and thin spaghetti

Chicken Parmesan 22
House made tomato rosemary sauce, parmesan cheese, thin spaghetti and garlic bread

Calamari Steak "A La Francaise" 21
Panko breaded, lemon, parsley, butter, white wine, thin spaghetti


Hand Cut Certified Angus Beef Selections
All selections are served with sautéed seasonal vegetables, choice of mashed potatoes, wild rice pilaf or baked potato.
&
A finishing sauce of pepper corn demi, brandy cream sauce, mushroom demi or melted blue cheese.

8oz FILET MIGNON 38
16oz BONE IN RIBEYE 36
12oz NEW YORK STEAK 34
6oz PETITE FILET MIGNON 30
10oz CENTER CUT TOP SIRLOIN 29

*RAPSCALLIONS CLASSIC SURF N TURF 58
6oz Petite Filet Mignon and a 10oz Maine Lobster Tail

RAPSCALLIONS STEAK AND CAKE 36
10oz Top Sirloin Steak, Maryland Crab Cake, mashed potatoes, sautéed seasonal vegetables beef demi, lemon butter sauce

SLOW ROASTED, SALT & SPICE CRUSTED PRIME RIB
Mashed potatoes, sautéed seasonal vegetables, au jus and creamy horseradish
14oz cut 30


Tasty Additions to any Entrée

Oscar Style 8
4 Prawns – grilled or sautéed 9
Seared scallops 9
Crispy Caribbean Coconut Prawns 10
10oz Maine Lobster Tail 30
Alaskan King Crab Leg 10


Rapscallion Classics
All classics include your choice of a glass of house wine or draft beer, dinner Caesar salad or cup of soup and choice of dessert
Sorry no substitutions. Available daily until – 6:30 p.m. only


Entrée
29

Basa Amandine
Wild rice pilaf, sautéed vegetables
red grapes, toasted almond, butter sauce

Or

Classic Shrimp Scampi
Garlic, white wine, lemon, parsley, butter, mushrooms, spaghetti pasta

Or

Chicken Parmesan
Tomato garlic rosemary sauce, thin spaghetti and garlic bread


New York Cheese Cake



Entrée
34

Italian Seared Tuna
Creamy polenta, broccolini, smoked tomato sauce

Or

Cedar Roasted Salmon
Wild rice pilaf, seasonal vegetables, caper butter sauce

Or

Top Sirloin Steak
Garlic mashed potatoes, classic demi, seasonal vegetables


Choice of a Small Bite Dessert

Bread Pudding with Rum Sauce



Entrée
39

Horseradish Crusted Cod
Sautéed spinach, lemon garlic butter sauce, crispy leeks

Or

Rapscallion Trio
Salmon, breaded cod and prawns, potato cake and creamy lobster bisque sauce

Or

Grilled New York Steak
Mushroom demi, crispy onions garlic mashed potatoes and seasonal vegetables


Chocolate Raspberry Brulee

***All menu items and prices are subject to change without notice.
To view menu on Rapscallion's website "CLICK HERE"
Rapscallion Seafood House & Bar
1555 S. Wells Avenue
Reno, NV 89502
775-323-1211
(Click here to view map)
Website
Neighborhood
Reno
Cross Street
Vesta
Cuisine
American (Contemporary)
Desserts
Seafood
Steaks
Wine Bars

Serving
Bar Dining
Brunch Sundays
Dinner
Lunch
Take Out
No
Delivery
No
Catering
No
Online Ordering
No
Ambience
Casual Elegant
Dress
Business Casual
Reservations
Recommended
Walk-Ins Welcome
Parking
Private lot adjacent to restaurant & additional private lot acrross street
Payment Methods
American Express
Diner's Club
Discover
Mastercard
Visa
Features
Banquet / Private Rooms
Bar / Lounge
Bar Dining
Beer
Bike Rack / Parking
Counter Seating
Desserts
Entertainment
Farm to Table
Fine Dining
Fireplace
Free Range
Full Bar
Happy Hour
Live Entertainment
Non-Smoking
Outdoor Seating and Dining
Patio
Personal Wines Welcome (Corkage Fee)
Private Room
Smoking (Outdoors / Patio Only)
Upscale Dining
Weekend Brunch
Wheel Chair Access
Wine Bars

Hours

Lunch
Monday - Friday
11:30am - 2pm

Bar (Lunch)
11:30 - 4pm

Dinner
Monday - Saturday
5pm - Close

Brunch
Sunday
10am - 2pm

Happy Hour
Monday - Friday
3pm - 6:30pm & 8:30pm - Close

Saturday
4pm - 6pm & 6:30pm - 8:30pm