Find the Best Greek Restaurants in Atlanta that fits your needs.
Click on restaurant name or picture to see detailed information - Profiles, Pictures, Menus & More...
---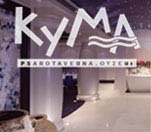 Kyma
- (Buckhead) -
Atlanta GA
-
Kyma is a contemporary Greek seafood tavern like no other. The cuisine is inventive yet approachable, while staying true to its Mediterranean origin. Kyma is dramatic, with a dazzling display of constellations on the deep blue ceiling, white marble columns and a bold fresh fish display. The welcoming patio, with
[+]
its plush furniture and white linen curtains, offers the ideal setting to savor a glass of Greek wine and Kyma's array of appetizers. Fresh, healthful food, attentive Greek hospitality and festive atmosphere await at Kyma. Diners enter between two 16 ½-foot solid marble columns, each weighing 55,000 pounds. The entry features a one-of-a-kind fisherman-light handelier, plus a captivating wall motif of actual broken plates – traditional to the Greek culture. The central ceiling showcases astrological Greek symbols and twinkling stars, and it leads to a waterfall fountain cascading to a marble display of iced whole fresh fish. The décor of Kyma captures a contemporary and pristine Greek ambiance. Using Pano Karatassos' broad vision for the restaurant, Bill Johnson of the Johnson Studio, designed an extraordinary restaurant space. Spectacular photography of Greece, original art and romantic candlelight frame the dining room in a serene, yet exciting, manner. A festive bar and year-round patio provide the perfect stage to enjoy the fine Greek wines, ouzo and mezedes (appetizers) for which the restaurant is known.

[-]
Categories
:
Greek
/
Mediterranean
/
Seafood
---
Click on restaurant name or picture to see detailed information - Profiles, Pictures, Menus & More...
---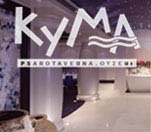 ---

Go To...
New City
New Cuisine
This Month's Featured Restaurants
Click on any restaurant name to see detailed description and profile information, menus, pictures, videos and more.

Click here
to sign up to our e-club and get
FREE ACCESS
to coupons / special offers / special events and more, you will also receive exclusive special offers / coupons and event invites from restaurants that will send this information to only our e-club members and will not be posted anywhere on the site for you to claim. This goes directly to your inbox and / or smartphone.
SIGN UP TODAY IT'S FREE