Restaurant Sign In
|
User Sign In
LA NOTE RESTAURANT PROVENCAL

La Note - Sample Menu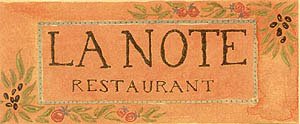 DINNER APPETIZERS

LES CROSTONES-CROSTINIS on toasted Levain~

CROSTONE A LA PAGNOLE 11
Assorted French country toasts topped with homemade olive tapenade, tomato goat cheese and eggplant caviar

CROTIN DE FROMAGE DE CHEVRE CUITS AUX NOIX 15
Oven baked, nut crusted goat cheese served with French country toasts, roasted garlic and Provencales tomatoes

CROTIN DE CAMEMBERTS AUX POIRES 15
Grilled Camembert cheese, served with French country toasts and roasted pears

CROSTONE AU SAUMON 16
Smoked salmon and goat cheese served with French country toasts and roasted tomatoes

CROSTONE AU JAMBON DE BAYONNE 15
French cured ham (prosciutto) and petit cornichons served with French country toasts rubbed with roasted garlic


~LES ASSITTES DU MARCHE~

ASSIETTE DE CRUDITES 15
A platter of fresh shredded carrots, marinated beets, yellow corn and potato salad

ASSIETTE DE CHARCUTERIE 16
Assorted platter of pate, garlic sausage, French ham and petits cornichons

ASSIETTE DE FROMAGE 16
A platter of assorted French cheeses and grapes and apples

MOITIE L'UN MOITIE L'AUTRE 15
A combination platter Charcuterie and Fromage

-all sides of cheeses or paté 5-
(French bleu d'Auvergne, Pyrenées, French Brie, mousse de paté)


LES SALADES-SALADES~

SALADE VERTE small 12 large 14 add goat cheese 3.00 add grilled salmon 6
Green leaf lettuce tossed in our Dijon vinaigrette

SALADE NICOISE small 16 large 18 add grilled tuna 6
Shredded Albacore tuna, beets, yellow corn, potatoes, shredded carrots, Nicoise olives, hard-boiled egg and anchovies over tossed greens with house Dijon vinaigrette

SALADE D'EPINARDS 14.50 add chicken 6
Spinach, Gorgonzola cheese and walnuts, tossed in an orange and shallots vinaigrette with aioli croutons

SALADE D'ENDIVES A LA FOURME D'AMBERT 15.50
Endives, red radishes, double cream French blue cheese, dried cranberries, walnuts and greens tossed in a blue cheese vinaigrette

SALADE PAYSANNE small 14 large 16
Orzo salad and thinly sliced French ham, hardboiled egg, yellow corn, with tossed greens in our Dijon vinaigrette


LES CROQUES ET LES SANDWICHS BAGUETTES

BAGUETTE A LA MERGUEZ 14.50
Spicy lamb sausage, with sun dried tomato pesto served on one half French baguette, with greens

TRADITIONAL FRENCH HAM AND CHEESE PRESSED SANDWICHES ON PAIN DE MIE, SERVED WITH GREENS

CROQUE MONSIEUR 16.50
With béchamelle sauce

CROQUE MADAME 18
With béchamelle sauce and a sunny side up egg

CROQUE PROVENCAL 16 (add an egg 2)
With béchamelle sauce and roasted tomatoes


DINNER ENTREES

LES BAGNATS-PROVENCAL SANDWICHS
*Bagnats are open face Provencal sandwiches served on warm Rustic French Rolls*
Served with Provencal tomatoes with choice of mixed greens or rosemary fries

BAGNAT AU THON GRILLE 16.50
Grilled tuna steak, served with aioli

BAGNAT AU POULET GRILLE 16.50
Grilled rosemary marinated chicken breast, served with aioli, sun dried tomato pesto

BAGNAT AU BRIE ET A LA TOMATE 16.50
Warm Brie cheese with tomato pesto

BAGNAT AU STEAK HACHE PERSILLADE 16.50
Grilled Niman Ranch ground beef, mixed with minced garlic and parsley, served with aioli

* Emmenthal cheese and caramelized onions 3.15

*Filled with Bleu d'Auvergne (French blue cheese) 3.15


LE COIN PATES-PASTAS

PASTA DE CHEZ NOUS-
Penne Pasta with roasted tomato coulis, sprinkled with Parmesan 16.50
*add chicken breas t 4.00 *add grilled salmon 5. 50 *add merguez (spicy lmab) sausage 4.50

*A LA CARBONARA
Penne pasta with crème fraiche, shredded ham, and Parmesan 16.50

*A LA BOLOGNESE
Penne pasta with Niman Ranch ground beef, and Parmesan 16.95

*A LA BOLOGNESE SPINACH (no pasta)
wilted spinach, ground beef, and Parmesan 16.50


LA RATATOUILLE BORGHETTI 16.50
Provençal style vegetable stew with eggplant, zucchini, tomatoes and savory herbs sprinkled with fresh grated Parmesan cheese, served over rosemary couscous



LES PLATS CUISINES-ENTREES~LES POISSONS-FISH

BOUILLABAISSE MARSEILLAISE 25 - (please allow for extra time-prepared to order)
Our traditional hearty, savory fish stew with a saffron broth, shrimps, scallops, clams, mussels, crab legs, and sea bass, served with croutons and rouille (saffron aioli)

MOUCLADE DE SAFRAN 16.95
Black mussels sautéed in a spicy saffron broth, curry, with tomatoes and béchamel, sprinkled with Parmesan

FEUILLETE ST JAQUES 18.00
Baked puff pastry filled with baby scallops, baby shrimp, organic farmed salmon and Emmenthal béchame


LES VIANDES-MEATS

POULET AUX PRUNNEAUX 22
Slow simmered country style whole-grain fed chicken, with garlic, dried plums, white wine and herbs served with saffron rice and green beans

STEAK FRITES PERSILLADE 20
Grilled Organic Niman Ranch flat iron steak, with parsley butter , served with French fries

ROTI DE PORC AUX HERBES 17.95
Roasted organic Niman Ranch pork loin with curry, served with a potato and tomato gratin

Les Legumes
-All sides 7.50-

Rosemary fries

Saffron rice

French fries

Sautéed spinach

Roasted tomatoes

Mixed greens

Ratatouille


***All menu items & prices are subject to change with out notice.
To view menu on laNotes website "CLICK HERE"
La Note Restaurant Provencal
2377 Shattuck Avenue
Berkeley, CA 94704
510-843-1535
(Click to view map)
Website
Neighborhood
Downtown / UC Campus
Cuisine
Breakfast
Brunch
Crepes
Desserts
Free Range
French
French (Bistro)
Gluten-Free Friendly
Organic
Vegetarian Friendly

Serving
Breakfast
Brunch
Dinner
Lunch
Take Out
Yes
Catering
Yes
Online Ordering
No
Ambience
Casual
Dress
Smart Casual
Reservations
Yes
Parking
Street (Metered)
Payment Methods
Mastercard
Visa
Features
Beer & Wine Only
Weekend Brunch
Cafes
Catering
Cozy
Desserts
Gluten Free Friendly
Non-Smoking
Organic
Outdoor Seating and Dining
Patio
Private Parties
Take Out
Vegetarian Friendly
Wheel Chair Access

Hours

Breakfast-Lunch
Monday - Friday
8am - 2:30pm

Dinner
Thursday - Saturday
6pm - 10pm

Weekend Brunch
Saturday and Sunday
8am - 3pm
Are you the owner of this restaurant?
Click here
to claim your page!