Restaurant Sign In
|
User Sign In
TRUCKSTOP

Truckstop - Sample Lunch Menu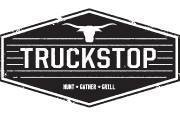 Lunch Menu
lunch served from 12pm-close, all sandwiches served with fresh fries

Truckstop Burger $13.95
a heaping 1/2 lb. certified Angus beef patty topped with our secret sauce, shredded iceberg lettuce, red onion, pickle and tomato on a brioche bun | add cheese $1.00 | substitute with a black bean patty

Blackened Chicken Caesar Wrap $13.95
grilled cajun chicken breast, romaine lettuce, red onion, avocado, tortilla strips and parmesan with house-made caesar dressing

Caesar Salad $10.95
romaine lettuce, house made croutons, caesar dressing and parmesan cheese. | add chicken $3.00 | add tri-tip $4.00 |add shrimp $5.00

Turkey Club (favorite) $12.50
free-range turkey with bacon, avocado, pepper Jack cheese, lettuce, tomato and mayo on squaw bread. *make it a wrap!

Truckstop BLTA $11.95
Crispy bacon, romaine lettuce, tomato, sliced avocado, and mayo on toasted rosemary sourdough bread.

Chicken Tenders $12.95
seasoned, breaded chicken, fried to a perfect golden brown. served over a bed of fries

BBQ Bacon Burger $14.75
A half pound of ground chuck patty grilled with melted cheddar cheese, crispy bacon, homemade BBQ sauce and onion strings served on a toasted bun

Mushroom Onion and Swiss Burger $14.50
Melted swiss cheese, sautéed onions and mushrooms, garlic aoili, shredded lettuce and tomato

Gorgonzola Peppercorn Burger $14.95
Covered with cracked black pepper, two slices of billionaire bacon, gorgonzola crumbles, mayo, shredded lettuce, tomato, onions and pickles

Garden Burger $13.95
A black bean patty with avocado, chipotle aioli, shredded lettuce, red onion, pickle and tomato on a toasted bun

Pesto Chicken Sando $14.25
A seasoned and grilled chicken breast served on grilled rosemary bread with a basil pesto sauce, fresh mozzarella, sliced tomato and peppery arugula

Buffalo Chicken Sando $13.95
Crispy buffalo fried chicken, gorgonzola cheese, shredded lettuce, and a light drizzle of ranch on a toasted brioche bun

Southern Fried Chicken Sand $13.95
Crispy Southern fried chicken, pepper jack cheese, bacon, red onion, and lettuce with buttermilk ranch on a toasted brioche bun *make it with grilled chicken!

Southern Fried Chicken Salad $14.50
Hardboiled egg, avocado, tomato, red onion, gorgonzola, bacon and Southern fried chicken with buttermilk ranch

Fish & Chips $15.95
Two fillets of haddock coated in our beer batter, fried to a golden brown, served with coleslaw, french fries, and tartar sauce

Grilled Cheese $9.95
A blend of cheddar, American, and swiss cheese melted to perfection between two slices of grilled sourdough. Add bacon/+$2, avocado/$1.50, or tomato/$1


Modifications:

For breakfast, sub carbs with fruit and yogurt $2.00
Substitute with a buttermilk biscuit $2.50 or fresh muffin $2.00
Substitute with egg whites $1.50
Substitute fries with a side salad or cup of fruit $1.50

***All menu items and prices are subject to change without notice.
To view menu on Truckstops website "CLICK HERE"

Truckstop
4150 Mission Boulevard
San Diego, CA 92109
858-274-8785
(Click here to view map)
Website
Neighborhood
Pacific Beach
Cross Street
Oliver Ave
Cuisine
American
American (Traditional)
Breakfast
Brunch
Burgers
Vegan Friendly
Vegetarian Friendly

Serving
Breakfast
Lunch
Take Out
Yes
Delivery
No
Catering
Yes
Online Ordering
No
Ambience
Casual
Dress
Casual
Smart Casual
Reservations
Walk-Ins Welcome
Yes
Parking
Garage (Validated)
Street
Payment Methods
Most Major Credit Cards
Features
Beer & Wine Only
Daily Drink Specials
Free Wifi
Good for Groups
Happy Hour
Kid Friendly
Large Screen TV's
Non-Smoking
Outdoor Seating and Dining
Take Out

Hours

Monday - Thursday
7am - 2pm

Friday - Sunday
7am - 3pm