Find the Best Personal Wines Welcome (Corkage Fee) Restaurants in Tri Valley that fits your needs.
Click on restaurant name or picture to see detailed information - Profiles, Pictures, Menus & More...
---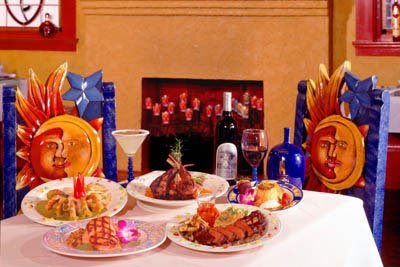 Blue Agave Club
- (Downtown) -
Pleasanton CA
-
Blue Agave Club, Pleasanton CA
Traditional Mexican flavors with the health conscious "California - style of cooking".
Located in the heart of downtown Pleasanton, Blue Agave Club first opened its doors in April, 1997. Being the very first restaurant in the area to debut high-end Mexican cuisine, it
[+]
was clear there was something special about Blue Agave from the very beginning. Boasting an impressive list of premium tequila, BAC had a huge impact on our community by introducing the art of tequila tasting. It wasn't long before we quickly became well known for our 100% Blue Agave Tequila margaritas, featuring a secret homemade sweet and sour recipe.

Our menu includes a variety of selections from classic Tortilla Soup and Mole Poblano to Grilled Salmon, Blue Agave Steak and our Award Winning Camarones. We also specialize in premium "sipping" tequilas and carry over 200 different varieties. If you so desire, you'll learn about the Tequila-producing region of Mexico and how tequilas are made. We are committed to serving the finest Mexican cuisine in a manner that will exceed your expectations. We are also committed to helping our customers and the community better understand and appreciate Mexican culture through our authentic style of cooking and by providing our fun and interesting Tequila pairing dinners.

Did You Know?

BLUE AGAVE CLUB is named as one of the Top 10 Outdoor Dining restaurants in the United States in 2012 from OpenTable

That our location could be HAUNTED?!? Check out our spotlight on ABC's 20/20!

Our rice & beans are vegetarian. We have never used Trans fat or MSG. We use canola & olive oils in our cooking. We also use compostable & recyclable take-out containers

Our private back patio can be rented for Special Events and can accommodate up to 100 guests. We will be happy to show you – just ask

Owner, Alexandro Garcia named two of the more popular shrimp sauces after his children, Alex & Charlee

We opened BLUE AGAVE CLUB on April 7, 1997, on Charlee's (the owner's daughter's) 3rd Birthday

BLUE AGAVE CLUB has been voted: Best Main Street Dining, Best Margarita, Best Place to Have a First Date, Best Atmosphere, Best Mexican Food, & Best Outdoor Dining by Pleasanton Weekly Readers

BLUE AGAVE CLUB hosts a bi-annual Tequila-pairing dinner with an exquisite 5-course meal designed & prepared by Head Chef, Manuel Ruiz. For more information on how you can attend our next dinners, ask your server


[-]
Categories
:
Banquet / Private Rooms
/
Bar / Lounge
/
Bar Dining
/
Catering
/
Full Bar
/
Meeting Rooms
/
Non-Smoking
/
Outdoor Seating and Dining
/
Patio
/
Personal Wines Welcome (Corkage Fee)
/
Special Events
/
Take Out
/
Wheel Chair Access
/
Wine
---
Click on restaurant name or picture to see detailed information - Profiles, Pictures, Menus & More...
---
---

---

Go To...
New City
New Special Feature
This Month's Featured Restaurants
Click on any restaurant name to see detailed description and profile information, menus, pictures, videos and more.

Click here
to sign up to our e-club and get
FREE ACCESS
to coupons / special offers / special events and more, you will also receive exclusive special offers / coupons and event invites from restaurants that will send this information to only our e-club members and will not be posted anywhere on the site for you to claim. This goes directly to your inbox and / or smartphone.
SIGN UP TODAY IT'S FREE