Find the Best Shows Sports On TV Restaurants in Atlanta that fits your needs.
Click on restaurant name or picture to see detailed information - Profiles, Pictures, Menus & More...
---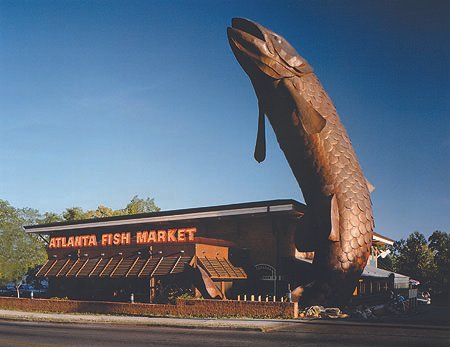 Atlanta Fish Market
- (Buckhead) -
Atlanta GA
-
The main brick building of the Atlanta Fish Market – notably marked by a three-story copper fish sculpture in front – is based architecturally on a 1920's Savannah train station, where owner Pano Karatassos was born and raised. It looks worn, torn, exciting and fun. The antique wooden revolving door,
[+]
interior art deco lighting fixtures, wide plank hardwood floors, and high ceilings with open space enhance the feel of the era. Unique 1950's lighting fixtures, "funky wallpaper" with mermaids and tropical fish, sheet rubber floors, huge wall face clock, and a traditional porch with rocking chairs create a distinct New England mid-century charm. Warmth, relaxation, and nostalgia are built into the building with antique white, cream and brown tones, plus pine, mahogany and cedar woods throughout. A hand-cut and laid mosaic in a fish scale pattern greets customer at their feet.

From the gracious service to the Southeast's widest selection of fresh seafood, Atlanta Fish Market's comfortable, neighborhood atmosphere is a relaxing retreat from the hustle and bustle of Buckhead. With more than 100 fresh varieties from the deep flown in fresh and a menu printed twice daily, Atlanta Fish Market has something for everyone. The thirty-foot copper fish sculpture in front and the train station-styled building welcomes guests with its wide veranda and rocking chairs. With five television sets, the adjoining Geechee Crab lounge is a comfortable place to watch a game, catch up on the latest news or simply relax with a cocktail before dinner. Enjoy the sights, sounds and tastes of the Atlanta Fish Market.

[-]
Categories
:
Bar / Lounge
/
Beer
/
Full Bar
/
Large Screen TV's
/
Shows Sports On TV
/
Take Out
/
Wheel Chair Access
/
Wine
---
Click on restaurant name or picture to see detailed information - Profiles, Pictures, Menus & More...
---

---

Go To...
New City
New Special Feature
This Month's Featured Restaurants
Click on any restaurant name to see detailed description and profile information, menus, pictures, videos and more.

Click here
to sign up to our e-club and get
FREE ACCESS
to coupons / special offers / special events and more, you will also receive exclusive special offers / coupons and event invites from restaurants that will send this information to only our e-club members and will not be posted anywhere on the site for you to claim. This goes directly to your inbox and / or smartphone.
SIGN UP TODAY IT'S FREE