Restaurant Sign In
|
User Sign In
MR. PICKLE'S SANDWICH SHOP - RANCHO CORDOVA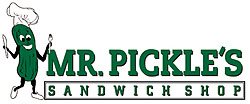 Mr. Pickles Sandwich Shop - Rancho Cordova CA, 95670
Mr. Pickle's Sandwich Shop - Natomas, Sacramento CA 95834
It all started in 1975 at King Plaza Deli in Daly City, California. King Plaza was a regular hang out for Frank and his friends. Through his personality and sharp wit, Frank was able to negotiate his first job, at the deli, cleaning tables and sweeping floors for $3.00 a day, at the age of eight. He continued to move up the ranks eventually working each and every position in the deli. Frank demonstrated his commitment to the job staying with King Plaza until he started high school at the age of fourteen.
In the meantime, Frank studied hard, knowing that one day he wanted to own his own deli. At sixteen, Frank began working in a local pizza parlor. He worked at a couple of local parlors over the next few years, increasing his experience in the food and service industry.
During these years of servicing the public Frank understood what people were looking for in a product and what they demanded in service. Frank opened his first Mr. Pickle's in 1995, in San Mateo, California. Mr. Pickle's took San Mateo by storm. Frank engaged the local high schools in naming sandwiches and participating in one of the first Mr. Pickle's TV commercials. The local kids were devoted to Mr. Pickle's and were considered "regulars."
The community loved Frank and his team. The line out the door proved it daily. After a couple of years, the demand to spread the 'pickle love' encouraged Frank to open up another shop. The reputation of Mr. Pickle's spread like wildfire. Everyone loved Mr. Pickle's and if they hadn't tried it, they surely had heard about it.
To date, Frank has opened numerous shops and his reputation has remained the same in every community.
FRANK F. FAGUNDES
FOUNDER, FRANCHISE DEVELOPMENT DIRECTOR
Frank Fagundes has twenty-five+ years of experience in the food service industry. He is an energetic, highly motivated individual, originally from Daly City, California. He took his convictions of hard work, discipline, and commitment and applied it to the first Mr. Pickle's Sandwich Shop® opened in 1994. He formulated his system through his years of experiences as a customer, as an employee, and a manager, and then applied that system to his own shop, which catapulted the original shop to be the choice Sandwich spot in San Mateo County.
Franks' concept of a quick service Sandwich Shop with a fun, upbeat atmosphere, using high quality ingredients hit the mark. Mr. Pickle's popularity with customers and franchise owners continues to soar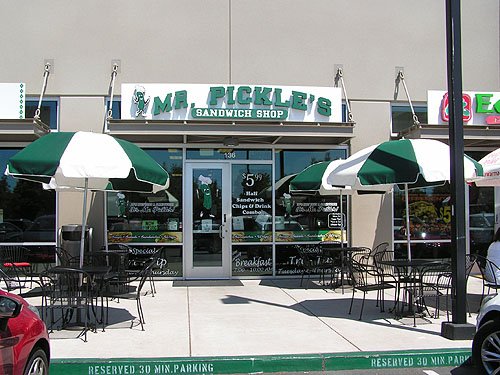 Mr. Pickle's Sandwich Shop - Rancho Cordova
3101 Zinfandel Drive #136
Rancho Cordova, CA 95670
916-400-3034
(Click here to view map)
Neighborhood
Rancho Cordova
Cuisine
American (Traditional)
Deli
Sandwiches

Serving
Breakfast
Dinner
Lunch
Take Out
Yes
Catering
Yes
Online Ordering
Yes
Ambience
Casual
Dress
Casual
Reservations
Walk-Ins Only
Parking
Public Lot
Payment Methods
Most Major Credit Cards
Features
Catering
Dog Friendly (Patio Only)
Kid Friendly
Kids Menu
Large Screen TV's
Non-Smoking
Outdoor Seating and Dining
Party Trays
Shows Sports On TV
Sidewalk Seating
Take Out
Wheel Chair Access

Hours

Monday - Friday
10am - 5pm

Saturday - Sunday
11am - 4pm