Restaurant Sign In
|
User Sign In
RAPSCALLION SEAFOOD HOUSE & BAR

Rapscallion - Sample Happy Hour Menu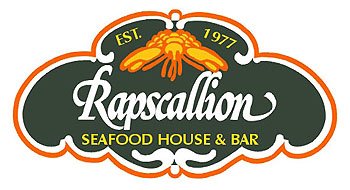 "HAPPY HOUR" – Bar Only
Monday – Friday 3:00 - 6:30 & 8:30 - Close
Saturday 4:00 - 6:30 & 8:30 - Close


Baja Fish Tacos
fresh avocado cream, lime, & shredded cabbage 6

C.A.B. House Ground Beef Tacos
lettuce, cheddar, sour cream, pico de gallo 5.5

Classic Buffalo Wings
buttery medium heat, carrots, celery and ranch 7

Certified Angus Prime Rib Sliders
creamy horseradish 7.5

Loaded Sailor Fries
bacon, green onion, sour cream, cheese sauce 7

C.A.B. Meatball Grinders
house ground certified Angus, marinara, Provolone 8

Baked Goat Cheese
rosemary, garlic, tomato sauce and flat bread 7

Crispy Pork Pot Stickers
teriyaki, sweet pineapple chili & ponzu sauce 6.5

Chicken or Beef Quesadilla
cheddar, guacamole and pico de gallo 5

4 Blue Point Oysters
mignonette, cocktail and horseradish 7.5

½ lb Steamed Manila Clams or Mussells
butter garlic broth and toasted bread 6


Drink Specials

WELL COCKTAILS 4
Jim Beam, Johnny Walker, Skyy, Sauza, Bacardi, Bombay, Christian Brothers

HOUSE WINE 4
BV Century Cellars Chardonnay, Merlot, Cabernet, Beringer White Zinfandel

DRAFT BEER 3
Scrimshaw Pilsner
Great Basin Ichthyosaur Pale Ale

$1 OFF ALL BOTTLE BEER

MARTINIS 5.5
Lemon Drop, Cosmopolitan, Sour Apple

No Substitutions
No Split Check


Rapscallion's Famous Cocktails

CLYDESDALE'S PERFECT MARTINI
Three Olives Vodka, hand stuffed bleu cheese olives 7.5

SMOKY MARTINI
Stolichnaya with a splash of Lagavulin 16yr scotch, bleu cheese stuffed olive 9

DARK AND STORY
Kraken Spiced Rum, fresh lime juice, Gosseling's Ginger Beer 7

PINK CADILLAC
Sauze Tequila, fresh lime juice, Triple Sec, sweet and sour, pomegranate, Grand Marnier float 8.5

LYNCHBURG LEMONDADE
Gentleman Jack Bourbon, Cointreau, fresh squeezed lemonade 9.5

PINK GOOSE
Grey Goose Vodka with a dash of pomegranate, shaken over ice with a lemon twist 8

CLASSIC NEGRONI
Boodles Gin, Campari Liquer & Sweet Vermouth 8

PAINTED COFFEE
Van Gogh Espresso Vodka, White Godiva Liquer, Frangelizo and Kahlua 9

RED ROYAL
Crown Royal, Disaranno, Grenadine and a cherry 9


BOURBON/WHISKEY

Jim Beam
Jack Daniels
JD Single Barrel
Gentleman Jack
Wild Turkey Rye 101
Wild Turkey Honey
Knob Creek
Makers Mark
Woodford Reserve
Southern Comfort
Basil Hayden's
Bulleit Rye


BLENDED SCOTCH

Johnny Walker Red
Johnny Walker Black
Johnny Walker Blue
J & B
Chivas Regal 12/18yr
Cutty Sark
Dewar's White Label
Dewars Reserve 12yr


SINGLE MALT SCOTCH

Glenlivet 12/18yr
Oban
McCallan 12/18/25yr
Laphroaig 10yr
Balvenie Doublewood 12yr
Balvenie Portwood
21yrGlenfiddich 12yr
Balvenie 15yr
Lagavilin 16yr
Dewars Aberfeldy


IRISH & CANADIAN WHISKEYS

Bushmills
Jameson
Crown Royal
Jameson 12yr
Crown Royal Reserve
Canadian Club
Crown Royal Black
CC Reserve
Crown Royal Cask 16yr
Black Velvet
Seagrams VO
Seagrams 7
Seagrams Dark Honey


COGNACS

Hennessy VSOP/XO
Hennessy Paradis
Hennessy Richard
Martell Cordon Bleu
Courvoisier VSOP/XO
Delamain
Courvoisier Napolean
Larressingle VSOP
Remy Martin VSOP/XO


PORTS

Taylor 10/20/30
Dows Ruby
Sandeman Reserve
Fonseca
Trentadue Chocolate Amore

WITH OVER 40 CORDIALS, PLEASE ASK FOR YOUR FAVORITE

WINE AND BEER

HOUSE WINE

BV Century Cellars
Chardonnay
Cabernet
Merlot
Beringer White Zinfandel


ON TAP

Ichthyosaur IPA
Scrimshaw Pilsner


BY THE BOTTLE

LAGER
Modelo Especial, Amstel Light, Millet Lite, Sam Adams, Stella Artois, Heineken, Heineken Light, Pilsner Urquell, Budweiser, Bud Light, Coors Light, Corona, Becks,
Michelob Ultra

ALE
Sierra Nevada Pale Ale, Sierra Nevada Torpedo IPA, Mirror Pond Pale Ale,
Fat Tire Amber Ale, Alaskan Amber Ale, Newcastle Brown Ale,
Rogue Dead Guy Ale, Anchor Steam Ale, Sculpin India Pale Ale

WHEAT
Blue Moon, Sierra Nevada Kellerweis

STOUT/PORTER
Guinness, Young's Double Chocolate Stout, Black Butte Porter, Samuel Smith Oatmeal Stout

***All "HAPPY HOUR" menu items and prices are subject to change without notice.
To View HAPPY HOUR menu on Rapscallions website "CLICK HERE"
Rapscallion Seafood House & Bar
1555 S. Wells Avenue
Reno, NV 89502
775-323-1211
(Click here to view map)
Website
Neighborhood
Reno
Cross Street
Vesta
Cuisine
American (Contemporary)
Desserts
Seafood
Steaks
Wine Bars

Serving
Bar Dining
Brunch Sundays
Dinner
Lunch
Take Out
No
Delivery
No
Catering
No
Online Ordering
No
Ambience
Casual Elegant
Dress
Business Casual
Reservations
Recommended
Walk-Ins Welcome
Parking
Private lot adjacent to restaurant & additional private lot acrross street
Payment Methods
American Express
Diner's Club
Discover
Mastercard
Visa
Features
Banquet / Private Rooms
Bar / Lounge
Bar Dining
Beer
Bike Rack / Parking
Counter Seating
Desserts
Entertainment
Farm to Table
Fine Dining
Fireplace
Free Range
Full Bar
Happy Hour
Live Entertainment
Non-Smoking
Outdoor Seating and Dining
Patio
Personal Wines Welcome (Corkage Fee)
Private Room
Smoking (Outdoors / Patio Only)
Upscale Dining
Weekend Brunch
Wheel Chair Access
Wine Bars

Hours

Lunch
Monday - Friday
11:30am - 2pm

Bar (Lunch)
11:30 - 4pm

Dinner
Monday - Saturday
5pm - Close

Brunch
Sunday
10am - 2pm

Happy Hour
Monday - Friday
3pm - 6:30pm & 8:30pm - Close

Saturday
4pm - 6pm & 6:30pm - 8:30pm